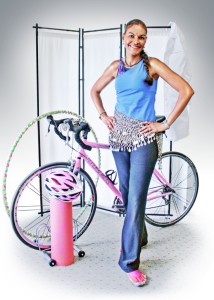 Dr. Karen M. Pendleton is passionate about improving the health of her patients and the Shreveport-Bossier City community.  
Dr. Karen's approach includes managing hormonal imbalances, correcting nutritional deficits, and tailoring exercise physiology.  
Her guiding mantra is, 
"Your health is your most treasured asset."
---
Busy Balance
6/4/2014
Summer is beginning in such a profound manner…
As a member of Pair O' Docs, my partner and I are striving to balance our practice responsibilities with family events, personal milestones, and ongoing Continuing Medical Education (CME).
During the Memorial Day weekend and the week to follow, we flew to Phoenix, AZ. My wonderful nephew, Jackson Connor Pendleton, graduated from Horizon Honors High School with honors and several scholarships. His proud posse included Grandmother Pendleton, two mothers, two sisters, three Dr. Pendletons (I'm one of them) and Uncle Dr. Jack.
As if it couldn't get any more exciting, Pair O' Docs flew to New Orleans, LA to attend my Tulane University School of Medicine Class of 1984 Reunion. Yes, it's been 30 years, and those classmates in attendance all looked happy and healthy. Yay!!!
The reunion was structured as both a social gathering and an educational experience. The most fascinating element was participating in the dissemination of priceless information from the Tulane University School of Medicine's Goldring Center for Culinary Medicine.
The learning objectives that were met included the following:
1. Understanding the impact of primary care intervention in the prevention and treatment of diet-related cardio-metabolic risk factors.
2. Examining the research behind the Mediterranean and DASH dietary lifestyle choices.
3. Developing strategies to translate evidence-based facts regarding nutrition and diet into effective patient education.
The ultimate Caveat from our experience in the Teaching Kitchen at the Tulane University School of Medicine's Goldring Center for Culinary Medicine:
"Two points…short, simple messages repeated over and over."
More to come about the Tulane University School of Medicine's Goldring Center for Culinary Medicine…